Kato Works Co., Ltd. Launches the 51t Rough Terrain Crane
SR-500L
for the Global Market
Kato Works Co., Ltd. launches the 51t rough terrain crane SR-500L for the global market in April 2016.
With the high rigidity and the compact structure, the SR-500L realizes strong lifting capacities.
The latest ACS (Automatic Crane System) and various monitor cameras (optional equipment) are available to support safe crane operation. The SR-500L is a purely Japan-made off-road rough terrain crane which offers professionals efficient and multipurpose operational solutions.
Boom

Boom type:

4-section, all extension simultaneously operated

Maximum lifting capacity:

51 t x 2.5 m

Boom length:

10.7 m – 35.0 m

Maximum lifting height:

35.6 m

Jib

Jib type:

2-section, 3-stage selectable offset angle

Maximum lifting capacity:

5.0 t x 75.0°

Jib length:

8.8 m, 15.2 m

Jib offset angle:

5°, 25°, 45°

Maximum lifting height:

51.0 m

Engine

Maximum output:

200 kw / 2,600 min-1

Maximum torque:

785 N・m / 1,400 min-1

Suspensions

Leaf spring suspensions ensuring a comfortable ride and easy maintenance

Radial Tires and Balloon Tires Selectable

In addition to standard radial tires, balloon tires are available for greater drivability on rough roads.

Efficient Transportation with a Trailer

The GVW is 33,970 kg (at a typical standard package) with the overall height 3,595 mm which may offer users an advantage in transportation with a trailer.

Monitor Cameras (optional)

Enhance visibilities at driving and crane operation.

ACS with the Touch Panel Color Display with Various Functions

Support safe crane operation with the 2-points working range limiter and the load factor limiter.

Crane Operation Data Logger K-COR

The K-COR (Kato Crane Operation Recorder) helps safety management by recording crane operation data and providing the reports.

Safety Equipment

Steps at front, rear, right and left of the carrier secure safe access to the cabin. Retractable hand rails are equipped on the top of superstructure. An ACS outside indicator with long-life LEDs and a slewing warning light are also equipped.

Wide Variety of Optional Equipment

Additional hydraulic oil cooler, Slewing warning buzzer, Anemometer, Winch view camera, Cab heater, AM/FM radio, Fire extinguisher, K-COR (Kato Crane Operation Recorder), 51t hook, Rear view camera, Right side view camera, Yellow rev. light, 23.5-25-32PR tire.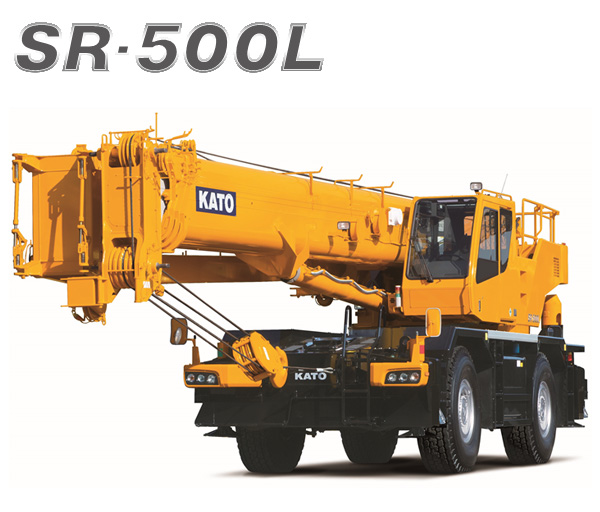 For further details, please contact;
KATO WORKS CO., LTD.
Overseas Marketing Department
9-37, Higashi-ohi 1-chome, Shinagawa-ku,
Tokyo 140-0011, Japan
Tel: +81-3-3458-1115
http://www.kato-works.co.jp/eng/index.html