Kato Works Co., Ltd. Launched the 35t City Crane
CR-350Ri
for the Global Market
KATO WORKS CO., LTD. launched the 35t city crane CR-350Ri for the global market. Hydraulically telescopic and tilting jib approach to wide range. The latest ACS (Automatic Crane System) and various monitor cameras are available to support safe crane operation. CITYRANGE mobile crane, CR-350Ri is one of the best city crane with various features.
CR-350Ri Product Features
Boom

Boom type:

6-section, hydraulically telescopic type

Maximum lifting capacity:

35 t×2.6 m

Boom length:

7.5 m – 32.5 m

Boom derricking angle:

-10°- 83°

Maximum lifting height:

33.4 m

Jib

Jib type:

3-section (Hydraulically telescopic type)

Maximum lifting capacity:

3.2 t×76.0°

Jib length:

6.5 m-14.0 m

Jib offset angle:

5°(7°)- 60°(Hydraulic stepless tilting type)

Maximum lifting height:

47.3 m

Engine

Max power:

200 kW / 2,600 min-1

Max torque:

775 N・m / 1,600 min-1

Super Luffing Jib (SL Jib)

Efficient jib work brought by 3-section hydraulically telescopic and tilting jib.

ACS with the Touch Panel Color Display with Various Functions.

Support the safe crane operation with the 2 vertical surfaces working range limiter and the load factor limiter.

Touch Panel Type Information Display

Operator can save the fuel consumption by checking the fuel efficiency and the working time on the display.
The ECO switch controls the engine speed to save the fuel consumption and reduce the noise during the crane operation

Roomy and Wider View Cabin

Comfortable reclining seat and wide foot space.
Slanted boom provides a wider view.

Safety Monitor Camera

Various safety monitor cameras ensure safe driving and operation.

Discharge Lamp

Good visibility by discharge head lamp.

Wide Variety of Optional Equipment

ACS outside indicator, PA system, winch view camera, door visor, Fire extinguisher, Anemometer, Seat suspension, Wheel Stopper, Way side lamp, Side marker lamp.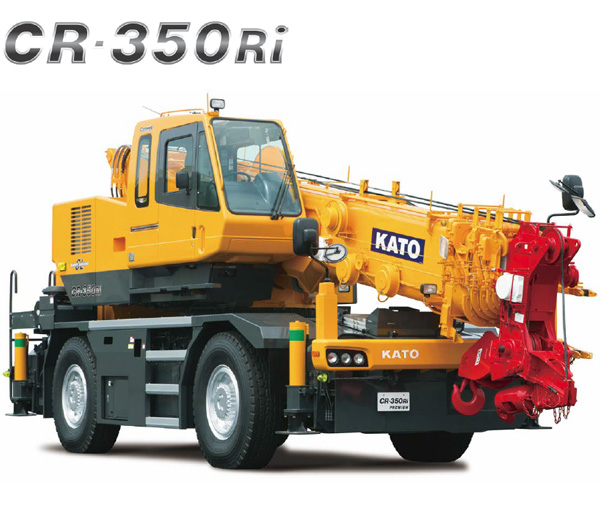 For further details, please contact;
KATO WORKS CO., LTD.
Overseas Marketing Department
9-37, Higashi-ohi 1-chome, Shinagawa-ku,
Tokyo 140-0011, Japan
Tel: +81-3-3458-1115
http://www.kato-works.co.jp/eng/index.html