Kato Works Co., Ltd. Launched the 130t All Terrain Crane
KA-1300RX
for the Global Market
KATO WORKS CO., LTD. launched the 130t lifting capacity all terrain crane KA-1300RX for the global market. Various counterweight configurations are available for the lifting. Clean and reliable Mercedes-Benz engine is mounted. Jib removed lifting is selectable. KA-1300RX is the advanced all terrain crane gathered state-of-the-art KATO technologies.
KA-1300RX Product Features
Boom

Boom type:

6-section, hydraulically telescopic type

Maximum lifting capacity:

130 t×2.5 m

Boom length:

11.8 m – 52.0 m

Boom derricking angle:

-1.8°- 85°

Maximum lifting height:

53.1 m

Jib

Jib type:

4-section (Hydraulic telescoping type)

Jib length:

9.2 m – 26.6 m

Jib offset angle:

2°(5°)- 60°(Hydraulic stepless tilting type)

Maximum lifting height:

79.6 m

Engine (for crane)

Max power:

150 kW / 2,200 min-1

Max torque:

750 N・m / 1,200 min-1

Counterweight

Various and safe lifting by 5 type counterweigh configurations.
Available to travel at job site with 24t counterweight

ACS with the Touch Panel Color Display with Various Functions

Support the safe crane operation with the 2 vertical surfaces working range limiter and the load factor limiter.

Super Luffing Jib (SL Jib)

Hydraulically telescopic and tilting jib. Lifting capacity without jib is available.

Winch

High speed lowering mode by new winch system

Touch Panel Type Information Display

Operator can save the fuel consumption by checking the fuel efficiency and the working time on the display.
The ECO switch controls the engine speed to save the fuel consumption and reduce the noise during the crane operation

Carrier

KATO original carrier with Mercedes-Benz engine

Max. power

390kW/1800 min-1

Max. torque

2400N・m/1080 min-1

Cab

Wide space for driver and passenger seat.
Less fatigue by air seat suspension
Storable bed (2320mm×600mm) for the rest is equipped.
Discharge head lamp for the safety driving.

Steering

Detect traveling speed and control steering angle automatically.
Easy to approach to the confined sites by 5 special steering modes.
Steering condition can be checked on display

Brake

Disk brake is equipped to all wheels
Brake pad amount warning device is equipped.

Touch Panel Type Information Display

Various machine condition can be checked

Wide Variety of Optional Equipment

Tea table, Spark arrestor, Slewing warning buzzer, Yellow rev. light (for CRANE). Air heater (for CARRIER).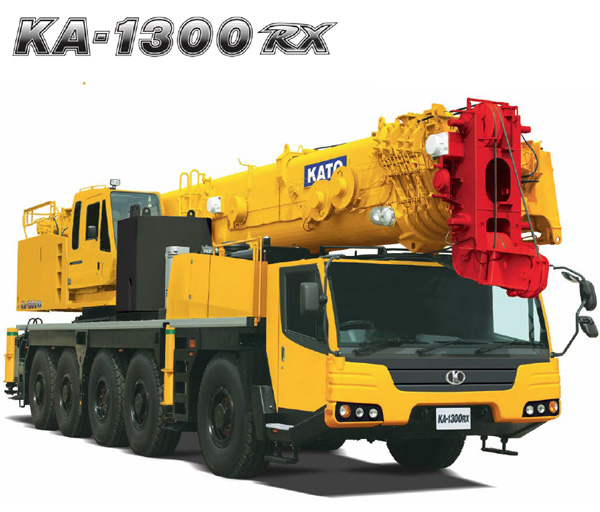 For further details, please contact;
KATO WORKS CO., LTD.
Overseas Marketing Department
9-37, Higashi-ohi 1-chome, Shinagawa-ku,
Tokyo 140-0011, Japan
Tel: +81-3-3458-1115
http://www.kato-works.co.jp/eng/index.html