Kato Works Co., Ltd. Launches the 60t Truck Crane
NK-600RX
for the Global Market
KATO WORKS CO., LTD. launches 60t lifting capacity truck crane for the global market. Stable and high performance operation made by KATO originally designed and manufactured chassis. High-rigidity frame ensures the excellent lifting. Latest ACS is installed and enhances the safe crane operation.
NK-600RX Product Features
Boom

Boom type:

5-section, hydraulically telescopic type

Maximum lifting capacity:

60 t×2.7 m

Boom length:

11.0 m – 43.0 m

Boom derricking angle:

-2.5° – 81°

Maximum lifting height:

43.0m

Jib

Jib type:

2-section(2nd section of draw-out type)

Jib length:

9.2 m , 15.0 m

Jib offset angle:

5°, 25°,45°

Maximum lifting height:

58.0 m

KATO Original Chassis Provides Mobility and Stability.

4-axle chassis is specially developed for truck crane.

Reliable and High Performance HINO Engine and Transmission

-Engine

Model

HINO E13C-YY (equivalent to EURO 3)

Piston displacement

12.913L

Max. power

302kW/1,800min-1

Max. torque

1,863N・m/1,100min-1

-Transmission

Model

HINO HX06

Number of speed

6 forward & 1 reverse

Roomy and Comfortable Carrier Cabin

Wide view cabin enhances safer driving.
Both left-hand and right-hand steering are available.
Seat suspension reduces diver's fatigue.
Adopt projector-type front lamps.

Latest ACS (Automatic Crane System) for Safe Operation

Adopt touch panel type color display. Easy to monitor and easy to operate.
Load factor limiting function keeps a bigger safe margin.

Crane Operation Data Logger K・COR (Option)

The K・COR (Kato Crane Operation Recorder) helps safety management by recording the crane operation data and providing the reports.

Wide Variety of Optional Equipment

Winch view camera & monitor, Winch drum mirror, Yellow rev light, Cab heater, Cab cooler, Fan, Roof visor, Sub hook sheave for 60t, Outrigger sheet, K・COR (KATO Crane Operation Recorder).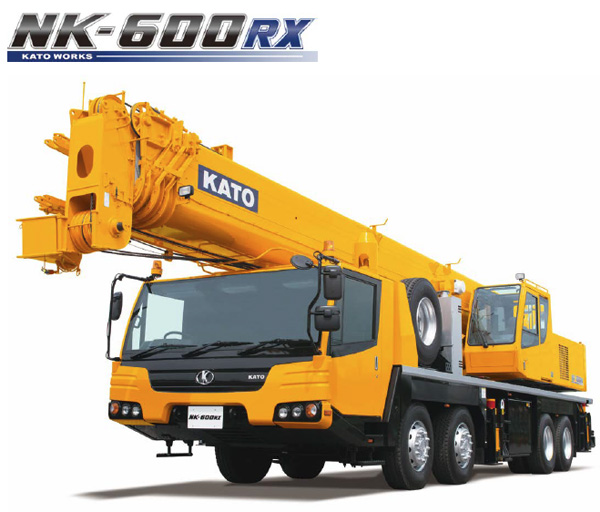 For further details, please contact;
KATO WORKS CO., LTD.
Overseas Marketing Department
9-37, Higashi-ohi 1-chome, Shinagawa-ku,
Tokyo 140-0011, Japan
Tel: +81-3-3458-1115
http://www.kato-works.co.jp/eng/index.html