New 12t & 14t HYDRAULIC EXCAVATOR

for the Global Market
KATO WORKS CO., LTD. launches the conventional excavator HD512-7 and compact tail excavator HD514MR-7 for the global market. These 2 models are mounted with an environment-friendly EU StageⅣ/EPA Tier4 compliant engine. The productivity and user-friendly have also been enhanced with new design and features.
Environment-friendly EU Stage Ⅳ/ EPA Tier 4 compliant engine

| | |
| --- | --- |
| | HD512-7, HD514MR-7 |
| Engine | Isuzu 4JJ1X |
| | 4 cycle water cooled, overhead valve direct injection, intercooler turbocharged |
| Number of cylinders | 4-95.4mm×104.9mm(4-3.8"×4.1") |
| Total displacement | 2.999L (183in3) |
| Rated output | 76.4kW/2,000min-1 (102.5hp/2,000rpm) |
| Max. Torque | 367N.m/1,800min-1 (270lbf・ft/1,800rpm) |

SCR

The new SCR system cuts the NOx 88%.

The large capacity DEF tank is available and replenishment of DEF is approximately 1 time per 4 times of fuel replenishment.

Productivity

The leveling operation has been improved by providing the arm-semi-parallel circuit and the arm spool.

Diameter of the boom cylinder hose and bucket cylinder hose have been increased. It reduces pressure loss and minimizes power loss.

Durability

The X-shape frame, front idler have been enhanced for the traveling body.

The new bucket has high wear resistance and the reinforcement plate is replaceable (option).

Maintenance

The new dimple bush keeps the grease longer than before.

Filters and greasing ports have provided to locations easy to access.

The cleaning space for the radiator is available.

The battery disconnect switch is available as standard feature and provides safe electric maintenance.

Safety

The new ROPS cabin enhances safety and provides a wider view.

The polycarbonate has provided to the door and protects from object such as scattering stone.

New engine start mechanism allows engine to start only if the safety lever is applied to lock position.

The ISO compliant handrail is provided and enable operator to access the upper structure safer.

The standard rear view camera and optional side view camera secures a wider view.

Comfort and user-friendly

The air volume is increased by 26% compared to the previous model.

The new operation lever decreases operational burden by 25% by new round shape grip.

Wide color display and touch screen control together with new APC has been provided. Various information are available on the screen. It is also enables the operator to operate the Air conditioner via APC screen.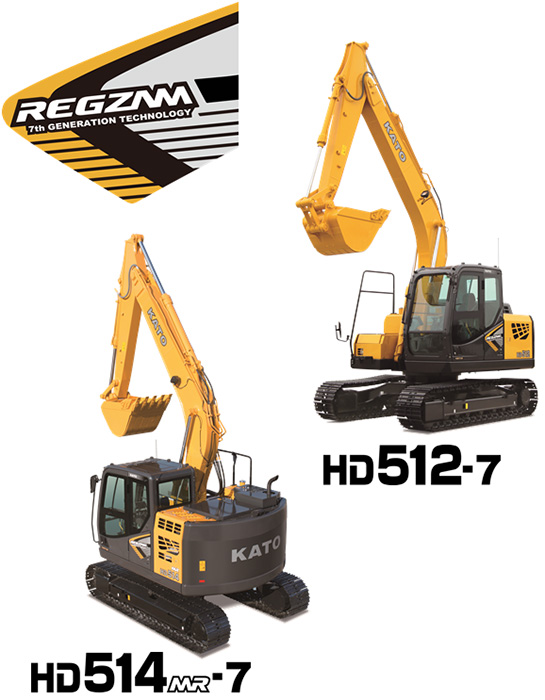 For further details, please contact;
KATO WORKS CO., LTD.
Overseas Marketing Department
9-37, Higashi-ohi 1-chome, Shinagawa-ku,
Tokyo 140-0011, Japan
Tel: +81-3-3458-1115
http://www.kato-works.co.jp/eng/index.html