Launch of the New KATO SR-500LX Rough Terrain Crane
KATO WORKS CO.,LTD. has launched the 51ton rough terrain crane, SR-500LX for the global market during the first half of 2019.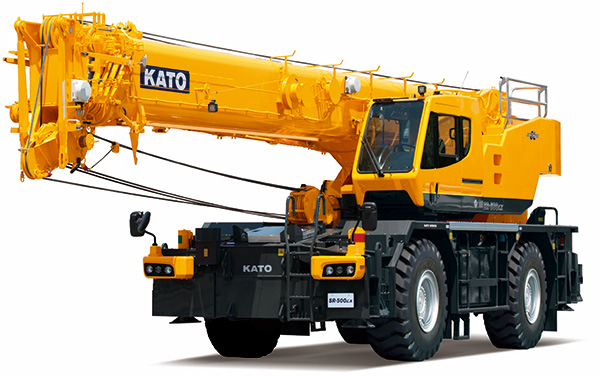 Boom and Jib "EJIB"

This state-of-the art mobile crane is equipped with a super luffing "EJIB" mechanism allowing for safe and efficient jib deployment. It has a 42m long boom and a 13.7m long super luffing EJIB. It also adopts two lifting modes namely, Mode A and Mode B that provide strong lifting performance and stable lifting performance respectively. No-Jib lifting capacity is available enabling for a Jib-less crane operations where the Jib is unnecessary.

Ergonomic Cab Design

Upgraded cab with the newly adopted joystick lever, LCD cluster meter and touch screen COR information display. Console with tele-tilt for easier boarding and seat with suspension. It is also equipped with the adjustable sunshade.

New ACS (Automatic Crane System)

An automatic safety device feature that instantly responds to any direct changes to various operating configurations. It has a range of limiting functions that increase safety during operation. With its high-intensity color LCD, the new ACS makes operations easier as it provides illustrated key switches enabling quick identification of their functions for each operation.

Touch Screen COR display

This is a colored display that shows various information for example fuel consumption, operations time etc. It also provides a range of functions which include the ECO switch which saves fuel by adjusting for optimum work engine speed during crane operation. During non-operation the hydraulic pump outlet and fuel consumption are also greatly reduced thanks to the Auto-Minimum-Control adoption.

General Specification

Maximum lifting capacity:

51t x 2.5m

Boom length:

10.8m ~ 42m (5 sections)

Maximum boom lifting height:

43.2m

Maximum jib lifting capacity:

4.2t x 10.8m

Jib length:

9.4m ~ 13.7m (2 section, offset 5° – 60°)

Engine:

Mitsubishi 6M60-TL

Overall Length:

12.76m

Overall Width:

2.9m

Overall height:

3.88m

Slewing radius:

3.9m

Optional Features

Slewing warning buzzer, Anemometer, Boom mirror, Air heater, Fire extinguisher, Ash tray, Yellow rev. light, Electrically retractable side view mirrors with defroster etc.
For any enquiries, kindly contact;
KATO WORKS CO., LTD.
Overseas Marketing Department
9-37, Higashi-ohi 1-chome, Shinagawa-ku,
Tokyo 140-0011, Japan
Tel: +81-3-3458-1115
http://www.kato-works.co.jp/eng/index.html