Launch of the New KATO CR-250RV CITYRANGE Crane
KATO WORKS CO., LTD has officially launched a new CityRange "CR" model, the CR-250RV as an addition to the current line-up for the global market. CR models are designed for maneuvering in the cities and for lifting work in confined worksites.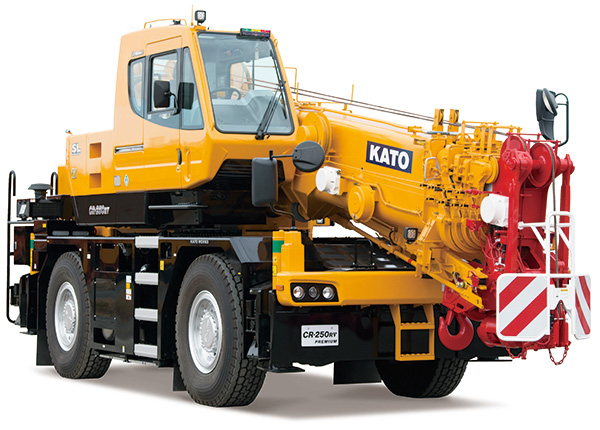 Boom and Jib "EJIB"

This mobile crane is equipped with the first ever EJIB on a CR model, based on the 4S concept namely; Slant Boom, Safety, Speedy, Small Space. The EJIB mechanism allows for efficient jib deployment which requires only two external cab work for set up.

Ergonomic Cab

The cab secures an all-round excellent view and provides great operator comfortability due to hydro-pneumatic suspension. It has built-in IC tag providing high level security therefore reduces crane theft.

KATO ACS (Automatic Crane System)

An automatic safety device feature that instantly responds to any direct changes to various operating configurations. It has a range of limiting functions that increase safety during operation. With its high-intensity color LCD, the new ACS makes operations easier as it provides illustrated key switches, enabling quick identification of their functions for each operation.

KATO SAFETY FEATURES

A combination of advanced safety features that provide an even safer driving and/or crane operating environment minimizing the risk of undesired events.

Surround View Camera: It displays a real time birds-eye view to the operator ensuring an all-around view for safer traveling and crane operation.
Human Detect Assist System: Another safety feature that assist the operator by detecting people near the crane that are not visible to the operators view range.
Anti-Lock Braking System (ABS) :Equipped with ABS which further enhances braking power and significantly reduces braking distance especially on slippery surfaces.

Touch Screen COR display

This is a colored display that shows various information for example fuel consumption, operations time etc. It also provides a range of functions which include the ECO switch which saves fuel by adjusting for optimum work engine speed during crane operation. During non-operation the hydraulic pump outlet and fuel consumption are also greatly reduced thanks to the Auto-Minimum-Control adoption.

Searcher Hook (option)

The 2 position offset angle Searcher Hook is a breakthrough feature for inserting operation. Therefore this feature performs best in height limiting work sites such as warehouses, balconies and soffits.

General Specification

Maximum lifting capacity:

25t x 2.8m

Boom length:

6.7m - 29.0m (6 sections)

Jib length:

5.3m ~ 8.2m (2 sections, hydraulic telescoping & luffing)

Engine:

Cummins B6.7 (EU Stage5)

Overall Length:

9.195m

Overall Width:

2.395m

Overall Height:

3.495m

Gross Vehicle Weight:

23,795kg

Front Axle Weight:

11,895kg

Rear Axle Weight:

11,900kg

Optional Features

Searcher Hook, Anemometer, Tire pressure monitoring system, Door visor, Lunch table Resins/Aluminum outrigger plate and storage etc.
For any enquiries, kindly contact your distributor or;
KATO WORKS CO., LTD.
Overseas Marketing Department
9-37, Higashi-ohi 1-chome, Shinagawa-ku,
Tokyo 140-0011, Japan
Tel: +81-3-3458-1115